My boys LOVE StarWars right now.   So, lucky me,  I was given a little boy's Darth Vader costume for my little guy, and my big guy wants to be Luke Skywalker.  
I was excited to sew garments again.  Fabric shopping was another ADD experience for me.
OOOh wouldn't that paprika colour be a great winter coat for me?  OOOh, that would be great fabric for a simple dress for the Christmas gala this year.  
A little nattering voice inside me, however, kept reminding me of 
last Halloween
.  Same pattern of excitement.   Stoked to start.  Couldn't wait to finish.  
Garment sewing is not my favourite.
But alas, Luke is complete.   After a bit of an 'itchy' problem with the wool fabric,  I whipped up an undershirt to go under his tunic, and we're all set.  I felt like I was on Project Runway sometimes, the way I altered and created!  
More photos tomorrow of the whole costume, as 'Luke' is at school right now.   But I did manage to snap a pic of the boots I made for him.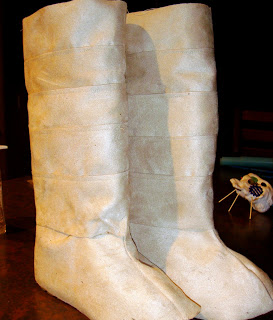 Done in faux suede, fitted over a pair of his rain boots.  I sewed strips together in rows to get that layered effect like the
original
Luke boots.