So the tree went up finally, and I wanted to share my 3 favourite ornaments. Our tree is decorated in white lights, German wooden ornaments, a few collected from friends over the years, and some family ones.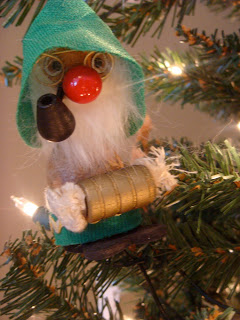 I've got only two of these German gnome dudes. I don't know what they're called, but they're from my opa from awhile back. His little head is on a spring so it wobbles around. Isn't he precious? Dude, I question what's in the pipe...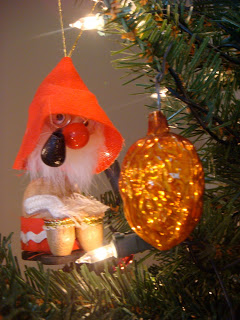 This other gnome dude in red... The copper walnut beside it was my mom's favourite ornament ever, and I believe it is from her grandfather's tree in Germany. Knowing that I have a little piece of my mom on the tree is cool... I still remember her decorating the tree, singing German carols with the record player, and having tears in her eyes as the music always moved her. I think I got that emotional bit from her too.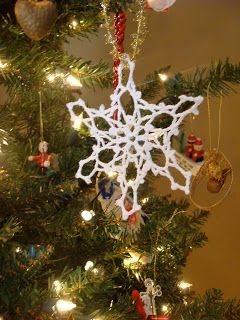 I have 5 of these gorgeous hand made crochet stars. They are stiffened with starch. These are from a grandmother of a boyfriend from 15 years ago. I was so fond of her, and these ornaments were one of the favourite things I've received from that segment of my life. I have a thing for grandmas and grandpas, I don't know why, but I cherish old people so much and love to hear their stories and their quirks.
I would love to be able to make some more of these stars...I haven't a clue how to start though. I know it takes a tiny little hook though!
So...do you have a favourite ornament? One that has a lot of history or story to it?