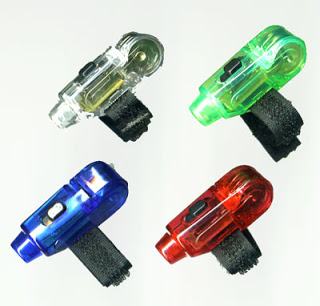 Okay...seriously. I'm still trying to figure out why or how a blue, green or red led light would be helpful to someone quilting?
And then the other thing... how will this help me with my hand stitching?
These were 16.95 at my LQS. LED finger lights. Except for the velcro vs elastic finger band, they are exact replicas of the ones I bought for my son's birthday party at the dollar store. for a dollar. ONE dollar for four lights.
Has anyone used these for stitching? I have used them for star wars light saber and dark room battles. If you need advice on that, just let me know.
Maybe I should buy out the dollar store and open up my own etsy shop and re-market them. LOL.