The view from my living room window.. believe it or not, if I drive 1 minute down the hill, it's a major shopping area!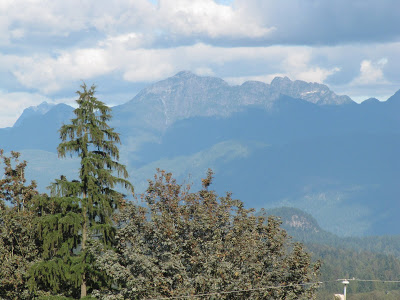 My sewing room closet - already had shelving in there. I've mashed my fabric in. I need to organize by colour, etc. My sister thought I had too much fabric. What??? Is that possible?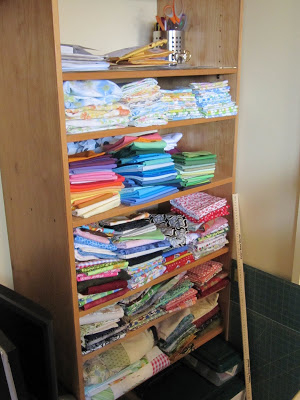 The room needs to be painted, and we intend to put new carpeting in (well, I'd love hardwood, but that's just not in the budget) It has alot of natural light, so it's a great little corner.
My new sewing cabinet, which I absolutely adore. It's a little taller than a normal table, and works fabulous for cutting and sewing: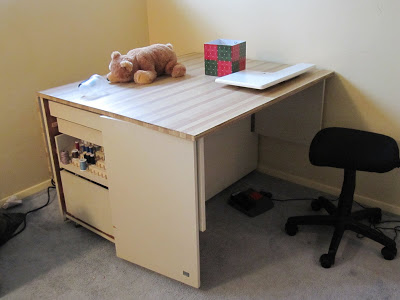 I intend to make a design wall right above this desk - for inspiration and for project work. I thought of taking just regular chair rail lengths and frame it around a piece of batting.. hope it works!
This is another view of my new table. Note the drawers are on each end of the table, and the bottom one is full length of the table. Great storage for the unsightly stuff like batting. I love that the table can be extended or folded up to a narrow length... I only have one leaf extended here... The other leaf, I plan to cover with Insulbrite batting and fabric, to make it into an ironing side.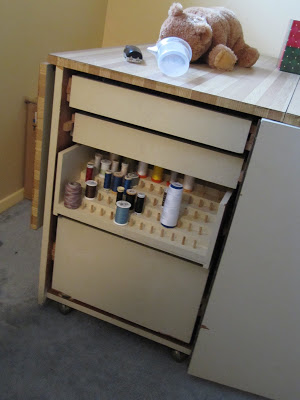 My first bee project in my new home....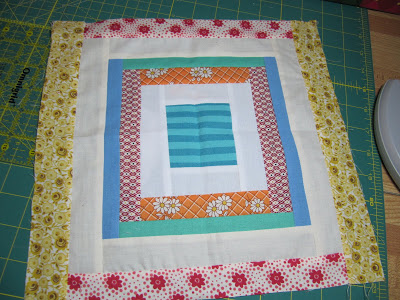 I forgot to photograph the next one which was a spiderweb string block. Oh my gosh, those were so fun to do! I definately will be making string blocks again!
I feel bogged by being behind in the bee blocks, but they will get done slowly but surely. Thankfully, there aren't too many red alert speed demons needed.
Finally.. thoughts on this?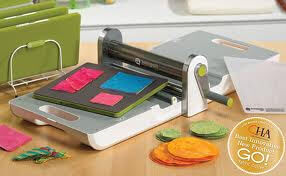 Is the internet blogging world buzzing with this new product or what? Do you have one? What do you think? They are incredible marketers of this product - going for the bloggers to spread the word. They know how word of mouth travels...I love that!
I'm not sure what I think about this tool. My first thought is - another thing to find a 'spot' for in my room. Also, I actually enjoy the process of cutting the fabric for my quilts. I love folding and cutting and stacking and watching the colours blend together in their little piles. Would it take away from that - would I become a little factory? Would I REALLY use this to control my stash, or would it just create more to-do projects? Thoughts?