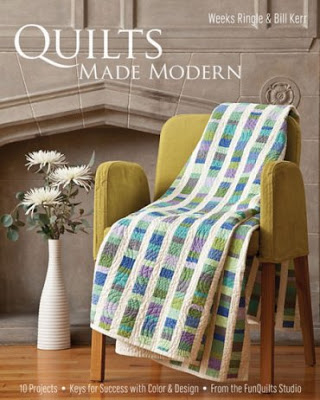 I must say that blogs are what really got me inspired to quilt and keep quilting...but Weeks Ringle and Bill Kerr's
The Modern Quilt Workshop
really really got me inspired. So when I heard there was another book coming out, I just had to order it.
If you go to their blog
Craft Nectar
and scroll through pages 2 and 3 (way better photos than AI could ever take!), you will get an idea of most of the patterns in the book. I like them all...what I like about the book, is that it gives you colour variations and shows how different colour combos will affect the pattern.
I'm going through a phase right now of quilt design burnout. I'm on a wave of not wanting to design my own anymore, and just relax and use the gorgeous patterns that everyone else has worked on. I think this is truly getting in the way of enjoying quilting right now. I sit there and stare at my fabric and the ideas just aren't flowing. And then I think...who am I trying to be? I'm not trying to become a quilt designer. Why can't I use someone else's pattern? That's why they MAKE patterns! What a silly concept... sometimes I think blogland unintentionally gives that pressure. (perhaps it's actually home renovation burnout and I'm just lashing out at my creativity slump)
This book caters to my love of simple and clean design, and has beautiful patterns to feed that need.
The other two books that I am really interested in are Elizabeth Hartman's
The Practical Guide to Patchwork
(I wonder if it is overrated and it is more how to than patterns. I'll need to see for myself, I guess) and my all time favourite solids designer, Cherri House's
City Quilts
.
Actually...I think I'm going to go buy me some Cherri House right now. She inspires me.
**thank you for your feedback on Connecting Threads fabric. I won't order for now, there was a definate consensus on the quality. If you have any positive feedback, feel free to let me know. As for the threads, my favourite is Aurifil, and after numerous terrorist -like attacks of thread on my machine, I found Aurifil to be the one to keep the peace. I won't waver from it now ;-)