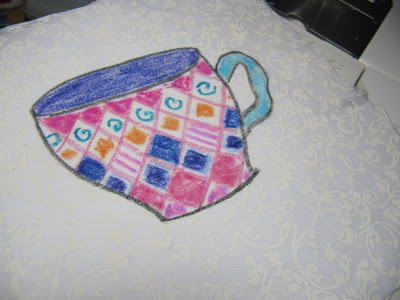 Did you know about this? Am I the only one who didn't?
please indulge me and tell me that this is a great discovery for you too..
What a fun, cool and awesome way to make a quilt or even just embellish a block!
You take your normal everyday wax crayons. Tape some cotton fabric to the table, keeping the fabric taught. Colour! Draw! Print! Go Crazy!
Then, to set the crayon, you slip the fabric that you coloured in between two pieces of plain paper. Iron on the cotton setting. Do this a few times. You'll notice the wax will 'soak' into the paper somewhat.
Done!
I did this little example in less than 5 minutes just to show how bright it shows up. I didn't press ultra heavily either. Instead of black crayon, use a micro fine sharpie to draw the image first, and then colour it in. I'm sure it will look much sharper.
Mr. Paleo had a try too - he really liked it, and wanted to make a whole bunch of squares to make a quilt. Again - at the end, touch up with a fine sharpie and it would look awesome.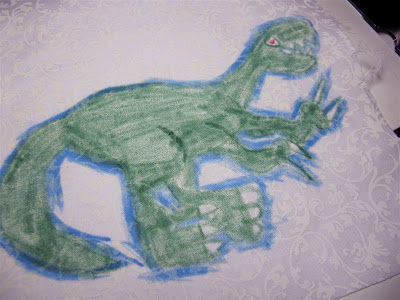 I bet this would technique would be cool as a watercolour wash style....