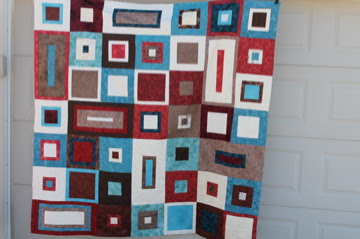 When I began quilting several years ago, I heard the comments from experienced quilters to get the 'good quality' fabric from your LQS. At the time I did what I could, but could not afford it all the time. Thus, my stash was built with a mixture of good and not so good quality fabrics. It really didn't matter to me - I just wanted to quilt and make nice things, that's all. I really didn't think it mattered at the time, and hey - my philosphy is - get what you can afford so that you can do what you love to do. Now several years later, that 'other store' fabric came out to greet me in this recent stash project. The not so good fabric really stuck out when I began cutting and piecing a few blocks together. Those blocks got ripped apart and the bad fabric was sent to the trash. I was having troubles with that fabric stretching, and that made it difficult to have even and straight seams, matching seams, etc. And...it just didn't feel right compared to the good stuff in the quilt. You could definitely feel the difference. I admit there are one or two pieces of red in there that made the 'cut' but the rest went away.
Buy what you need. NEED. Not want or covet...and then you can afford some of the 'good stuff'
Another thing that I learned from this project was the reminder of having that accurate 1/4" seam. I have had very good success with my Juki presser foot, but during this project something was off. First I blamed it on the fabric. And then, my seams were still not accurate. I was having to over stretch or compensate my seams to make things fit. Again - this shouldn't happen.
Then, while I was rethreading my needle, I realized something. My presser foot was not as solid as it used to be. You see, where the foot part meets the shank was becoming wobbly. Not obvious, but enough that when I wiggled it I noticed a big difference in possible seam measurements.
I ordered a new presser foot. And voila, perfect seams again.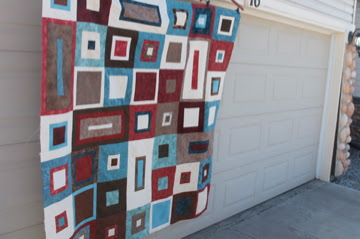 This quilt is ready to be quilted urban style...
on my new longarm arriving soon!