My client, S, brought me two stunning quilts to try my beginner magic on. I'm so thankful for her trust in me.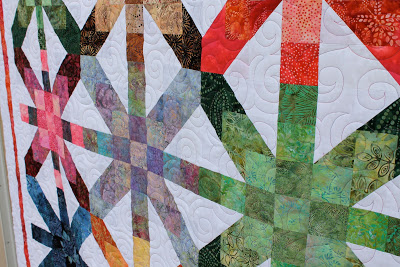 I used Aurifil polyester thread in a magenta variegated colour, and quilted using a pantograph called Jessica's swirls, by Digitech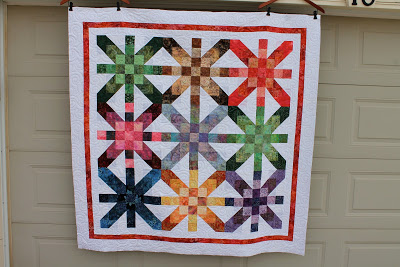 click on the photo to enlarge
This quilt is just so gorgeous in person, the choice of fabrics and colours...sigh. Too bad she picked up her quilt. I thought she might forget it. ;-)
This is the one aspect I know I will love about longarm quilting - I get to see so many beautiful quilts!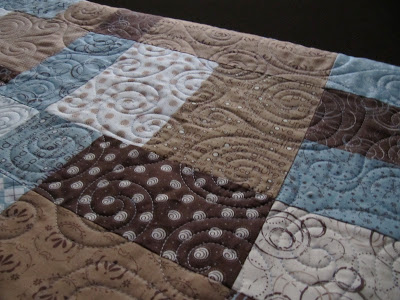 This one in beautiful neutrals/blue was done using freehand swirls and spirals.
See? All of that white board practice works!!!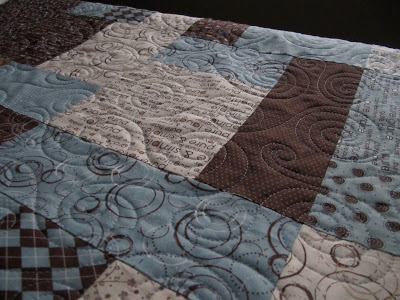 I purposely used a variety of sizes, small, medium and large to add interest.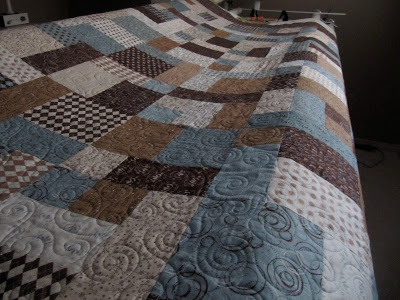 This lovely queen size quilt was quilted using Wonderfil Tutti thread in Ocean


Thank you, S, for trusting me with this project. I was nervous, but I loved quilting for you!
I've been trying out a wide variety of threads so far. I am really enjoying using the
Wonderfil
line of cotton threads, and would highly recommend them for piecing and quilting. Some lint produced on my longarm, but I'm thinking at the high speed, this is inevitable....I just blast it out with air. Worth a try if you are like me and shipping costs to Canada are outrageous. This company is based out of Calgary, so shipping costs aren't so crazy. They have a huge range of threads to try - I will be trying their poly for quilting too. Maybe I will be a complete convert one day. :-)
I used the Aurifil polyester thread in the above quilt and love love loved working with it, but sadly, I don't think there will be any sources around here or ones that at least ship to Canada for a decent price. :( (I received it as a sample with my longarm)