Look at my new business cards! I feel all important now.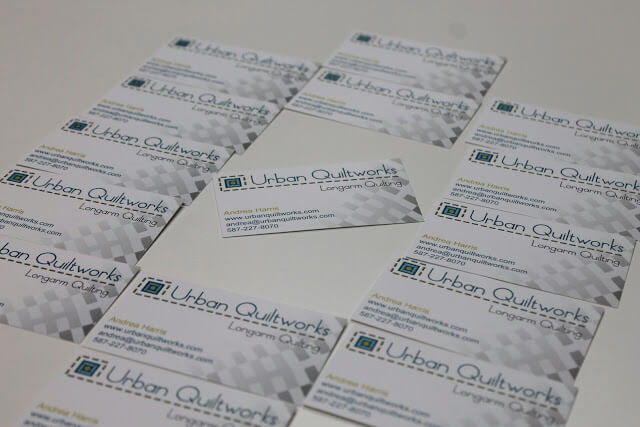 Urban Quiltworks is starting to blossom and become more real. I'm taking things slow, because my goal is to maintain being a mom and wife first, keeping some of the work/life balance going on. I can already see dust bunnies surfacing, laundry being forgotten in the dryer, etc and I'm not even full time up and running my studio! Ha!
I have been very fortunate with many things - family support and cheering squad, time, no pressure, no unreal expectations from others. I also have had someone contact me if I would like to work together for a business logo/design for my blog. Knowing absolutely NOTHING about this kind of stuff, I was all over it. I am so glad I got to work with Kim! I love the many options she came up with, the revisions and the formats she gave me. I have business cards, a blog header, stationary header, and a facebook page header now (when and if I decide to go there)! Don't my cards look cool!?
I was so flattered and excited that she approached me that I wanted to share some more about her.
Here is a brief introduction to Kim:
I've been a follower of Andrea's blog for a while. When I saw she was considering a longarm quilting business, I asked her if she might be interested in a new logo/banner design for her website. Lucky for me she agreed!
While I have done graphic design in the past, I wanted to formalize my skills and so enrolled in a design program. It is my goal to be able offer a complete package ranging from branding/identity, print, web design, and social media graphics. I am also a quilter and a supporter of small business, so it is my hope to be able to offer something affordable to this type of client. I discovered while making quilts for customers that I really enjoy working with people, taking the time to make sure they received the colors and fabrics they had envisioned. I look forward to doing the same in my new career. With my school commitment running through late 2014, I am focusing on small projects as time allows (ask me how patient Andrea has been!) Until my new website is complete, www.1201studio.com, you are welcome to contact me through my quilting site www.1159studio.com, where hopefully I will still find time to write about sewing (as well as actually sewing). Thank you to Andrea for working with me!
I didn't need to be patient - I was not in a rush, Kim! She was a pleasure to work with, easy going and receptive to my ideas and changes I had. She also gave me some guidance as well - I have such a hard time making final decisions... I am glad I had this experience, and now can show off my pretty business cards. Now I need to find a shiny business card holder!