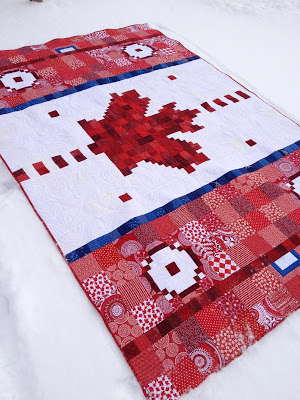 I'm sure you have all heard by now that
Cheryl Arkison
has a new quilting book out. I am really lucky that I live in the same city as her - we have tea from time to time, my kids get attacked by bees in her back yard. She cooks with real butter. She's just a really good soul. And she can quilt.
Sheesh, can she quilt.
When we talk, I love the soul and passion she has for her writing - she really wants people to get into their creative zone. We bounce ideas off of each other. She doesn't want to write just another pattern book and pump out the patterns. Her books give you inspiration, ideas to jump from, and wonderful stories that give us a glimpse of real people, and real quilters' lives. You can read her books with a cup of tea.
I was pretty shocked when Cheryl approached me to contribute to this book.
First off - ME? Have you SEEN my 1/4'' seams?
Next - uh...does this mean I have to have my photo taken and write a bio? LOL.
Her theme and vision for the book - has someone ever asked you to make a quilt for them?
What was the experience, the process, the outcome?
Take me through your creative process from start to finish...
So, I thought it was a great time to finally make that Hockey Quilt for my husband. The one that I've dreaded for so so long. The one where he would love to just have Montreal Canadiens cheapo fabric spewed all over the top. The one that I just could NOT have in my portfolio. So I made something different.
It is not regulation sized, nor is it totally to scale. But it is Canadian themed...hockey themed, and my man is over the moon about it. You can read more about my story, the process of the idea becoming a quilt, my husband and my sarcasm in the
book
. There are many more photos of the quilt as well.....
And you can even make your very own hockey quilt too!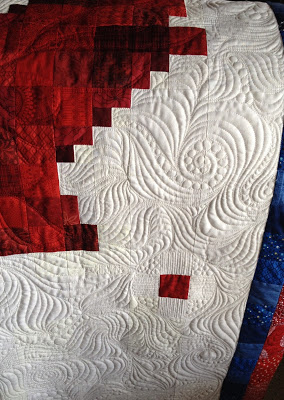 hand guided quilting by me on my APQS Millennium
The book includes several well known contributors and outlines individual process- how do we take that IDEA and transform it, document it , massage it to finally become a quilt. And yes, there are patterns in the book!
Cheryl Arkison is having a
giveaway
with prizes!
Who Inspires YOU to Quilt?
Post your photo on twitter or instagram with the hashtag #youinspiremetoquilt and you can win!