I finally got a chance to quilt my way. Freestyle.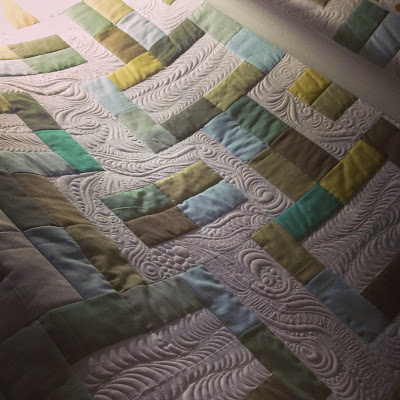 So, there was this group of colours that I really like because they are odd, unusual and not commonly found on trend. So I made a quilt with them
way back
. And now again.
Because odd is cool.
I used my
Avignon Picnic Quilt
featured on Moda Bake Shop.
I started by stabilizing all of the blocks and stitching in the ditch around all of the coloured strips. That was fun. NOT.
Pure torture...and a good reflection how piecing and pressing are important parts to the whole quilting process. ahem.
Did I mention that I was in a manic rush to get this done?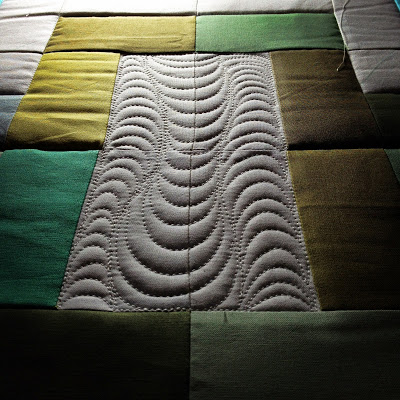 After SID everything, I quilted wavy 'c' patterns in the center whitespace of all rectangular blocks
Some of the darker photos are done in my studio with a side lamp to show the texture of the quilting.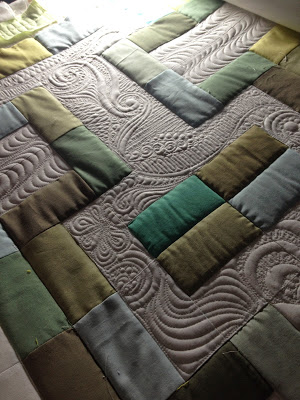 And then I started quilting.... which was basically the funnest doodling ever.
I did have a bit of a plan - I wanted to make sure there was lots of motion to direct the idea in certain directions, to create flow.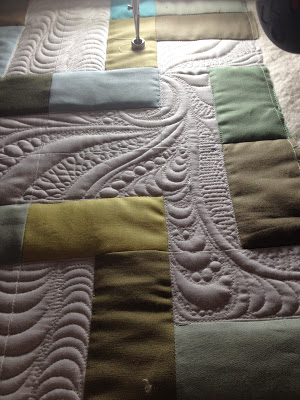 I may not be the best at this yet, but I sure enjoyed it, and it just looks ultra cool in some places. I've only been doing this for a year on my APQS machine(another post coming up) and I have a lot to learn still. But darn, this is just so. much. fun.
I just love texture.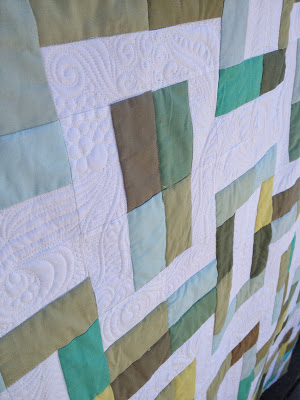 Outdoors, the colours become alive and less muted.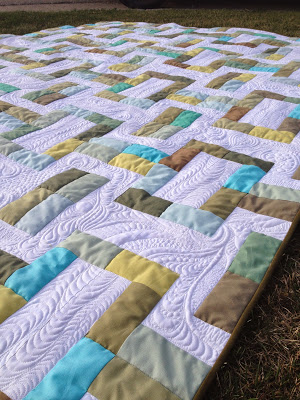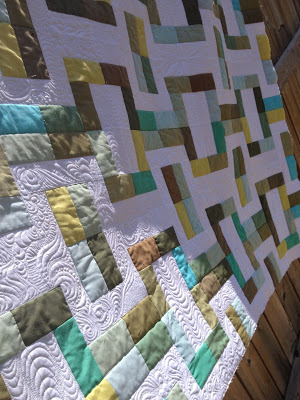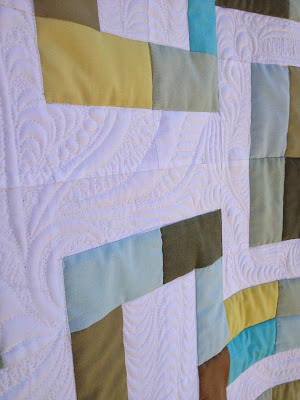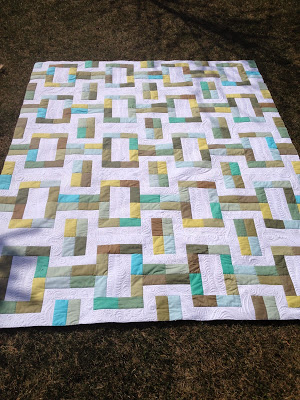 My Avignon Picnic quilt was enlarged somewhat - by adding one more row. It measures 64 x 80.
Thread: Wonderfil Master Quilter and Decobob in white.
Wonderfil Invisifil in light blue (it's all I had and well..it's invisible)
Batting: Hobbs 80/20
The coolest thing about this project? My long arm quilting group in Calgary decided to use this pattern to showcase long arm quilting skills as a group entry at the Heritage Park Festival of Quilts this weekend.
You don't know how beefy proud I am, but yet totally shy about it as well.
I mean, me?
You cannot believe the ideas that people came up with. I will take photos this weekend to show the different quilts. All use Avignon Picnic pattern, with different fabric combinations and quilting designs. I am super super proud to see my design in so many new ways. It's kind of one of those neat little milestones in life that make me feel so happy. I'm not a grandstander....so for me, if I just play it down or shrug or look away, know that deep in my heart it is so completely awesome for me, but I can't 'wear it on my sleeve'. My reward is seeing it in so many variations...and people tweaking my pattern to make it even better!