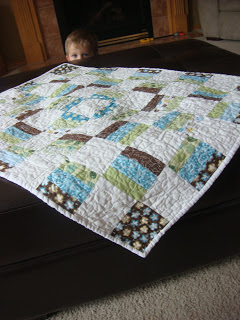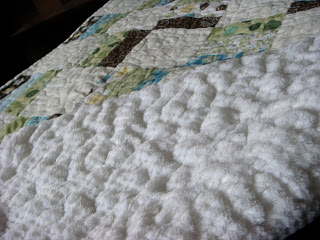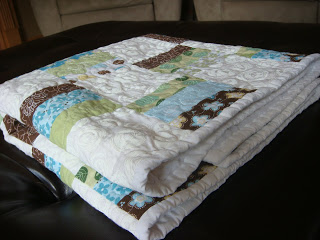 It's a touch smaller than a baby quilt, so perhaps I should call it a stroller quilt?  
Minky furry stuff on the back to cuddle with.   These were left over blocks from
another
baby quilt I made back in January.    Can you believe I still have left over blocks?  I could have made this quilt bigger by using more of them, but I get all caught up with symmetry sometimes, and couldn't use them because of that. 
I'm terrible at labelling.  Have not done any labelling on any of my quilts yet.  Nor have I named them.   My type of naming is like this.   This one would be called:  the smaller stroller quilt I made that had the left over blocks from baby jesse's rail fence quilt.  LOL.  
When I give them as gifts, I put a little note card inside with the washing instructions, and always, always put the following:  "runny noses and sticky fingers allowed.."   I love that.