While at the hardware store today, I noticed these beauties in the paint samples.  Usually it's the monochromatic chips, but there were co-ordinating chips at this store.  Very cool.  There were lots more, but I chose only the ones that "spoke" to me.  Whatever that means.  LOL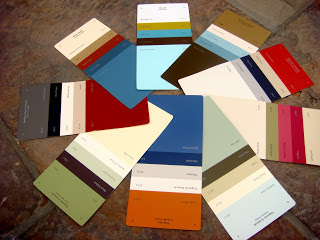 mandatory cat in the way as usual shot.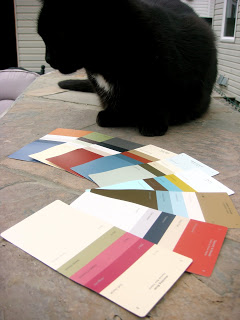 We went looking at an acreage today.  It is the same one we admired last year, and then it sold.   The people who bought it were investors, and reno'd it, and we
really
like the renos.  Things here have been hectic on the life front - we almost endured a transfer to somewhere far, far north of us, but a paid move, and financially great.  But location, not so great.  So now, that has not turned out (thankfully) and we are speculating dh to take reigns of the ship here in the city in a promo way, and it may mean us staying for a few more years.  If that is the case, I wanna move to an acreage!  If it is not the case.....I want to move back home to BC!  LOL.  So has the story been of my past 4 years. Are we moving this season? yes? no?   The cost of living here is so much less than in BC.  We get more bang for our buck here...we just miss home is all.  I'm assuming that the longer I live here, the lesser the yearning for 'home' gets.
anyone live on an acreage?  There's something romantic and freeing about the thought of it...and something terrifying about it too.   Right now I live in a cookie cutter development, where I can hear my neighbours sneeze.    
I just want to settle and find a forever home...or at least a home I can make a design wall for quilting without worrying about moving in the next 4 months so let's not put too many holes in the walls.  *sigh*
Is that too much to ask for?   A design wall in my forever home please? 
Anyone else have a husband who seems to be constantly on the verge of transferring or restructuring positions?   It's so frustrating!!!
Anyways, back to the original topic - colour inspiration -
Amy
asked about it...where we get it from, and today, I found some in an unusual spot.