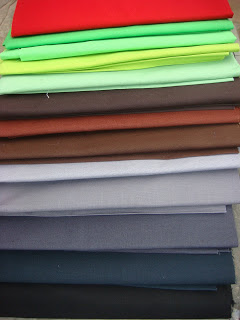 I purchased some Kona Cotton Solids from the
Fabric Shack
 .  They were super reasonable at $3.99/yd US$.  It was very fast shipping, and they included a package of machine needles in my package!  Cool!   This is for a new quilt that I got some inspiration for, now I need to execute it!
I'm really loving the charcoals, but may add or swap out a couple of browns and a couple of the greens.  It's so hard to go by the colour swatch on websites, but what a nice package to get in the mail today.  
I have done NO quilting or sewing this week.  I'm going downstairs right now to fix that.    I'm 1/2 way done machine quilting my sheets quilt, and have no clue how far I'll get with my wonky log cabins...but I need to sit down and soothe my soul for abit.  This week and last have been a bit stressful life wise, but should be calming down  next week.  I hope.