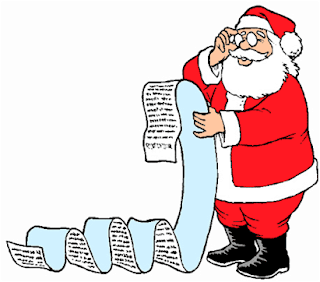 Here is a compilation of ideas and wishes from some of our fellow blogland quilters. At first I thought to myself, what the heck am I doing? This is alot of work! And then, as the ideas came in, I started to learn about new tools that I had no clue about! I will be printing this out and highlighting my fav's for my husband! So...read on, click on links for photos and ideas, and I hope there's something there that can pique your interest and help your list grow.




The list of course, does not include everything and anything - just suggestions from you. The books and magazines list is small, and I know there are oodles more to choose from.




* disclaimer - I am not affiliated, nor do I get perks for linking up to these sites. I have no idea how to do that kind of thing. LOL. I've just done some searches through google, amazon and a few of my known online fabric shops. I have just linked them so you can view a photo of what the item is and become familiar with it.




Books




Magazines (subscriptions, issues, back issues)




Cutting Mats




Rulers
Accuquilt Go! Okay..maybe pipe dream, but I would really really want to have one of these! I am a gadget kind of girl. ;-)
tape measures
new rotary cutting blades
a good seam ripper - the Clover Seam Ripper and this stand up seam ripper were suggestions
Kwik Klip - a tool for pin basting quilts -I want this!!
flat head pins
numbered pins
good quality scissors like the Gingher I've been hearing about
the Bernina Lady's Knife
Sewline fabric pencil
sewing machine needles
iron
teflon pressing sheet
batting
thread, thread, thread. Good quality, quilting thread from the quilt shop. Cones of it. white, basic, varigated And not the cheapo stuff honey. You know when you tell me the difference between a good quality golf ball and a cheapo one? That the $7 ball STILL performs way better than the $1 ball, especially when it usually ends up in the water trap?
Accessories
a design wall such as this one
shelving
totes and bins
folding tables
folding cutting table such as this one from Joann
folding sewing table such as this one from SewEzi
20" pillow forms
magnets
size 36 and 45 buttons to cover
Ikea storage like this set of drawers
Ikea desk/table in shiny red
desk top Ott-lite
Fabric
Love by Amy Butler
Flora and Fauna by Patty Young
Hope Valley by Denyse Schmidt
Deer Valley Collection by Joel Dewberry
Meadowsweet by Sandi Anderson
Heather Ross hard to find fabrics
a surprise stack of assorted purple fabrics (or choose your colour)
fat quarters of 37 Japanese taupe fabrics
Japanese fabrics - mushrooms, gnomes, deer, taupes, luciens
a selection of hand dyed fabrics like this
wool felt selection
Dear Family, the number one thing that I want is TIME, uninterrupted, leave me alone, quilting time. Perhaps make a coupon book for me with time increments, where you take the kids out for the afternoon while I get to sew!
gift certificates to local quilt shops
gift certificates to online quilt shops such as this one
a trip to a quilting retreat ( I know a few of the local LQS have retreats and cruises that they organize...check your local LQS or your local guild)
someone to assist me in clearing out and setting up the unused room in the house
a dedicated sewing space
a Persian cat name Winston -lmao!!
Thank you for your ideas and suggesstions...I really do appreciate it. I'll be drawing a name later today!