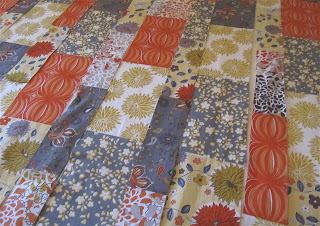 I love rectangular blocks. At about 9:30pm last night, I got a simple quilt idea (which I'm sure has been done many o times) to use my new fabric in a simple quilt with large and small rectangles. Easy peasy right?
Piecing is easy - except when you randomly pair them together, and then hang them to position them on your design wall..... This is where I use up wayyyyyy too much time making sure the combinations are just right. Time waster.
So, do I put any white or charcoal vertical sashing in between the rows? yes or no?