I was trying to make a baby quilt out of stash and scraps that I already had. I almost was there, until I put the brown snuggles fabric around it. ick. I just didn't have enough fabric to really make something of it - even if just a small travel quilt. So I unprocessed - and removed, and placed the partial blocks away.


I know I need more fabric. But I'm on a spending freeze until I can use up some of my stash.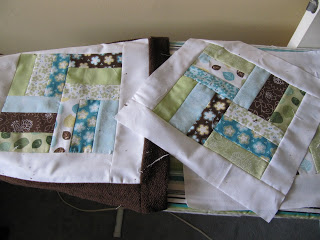 Except when I bought this set of fq's for 1/2 price at
Fabric Flair
on etsy. I know it's not solids which I covet - but I really love the charcoal and orange combo of these prints!