1. Buy apple juice, gingerale, pepto, gravol, when you see the flu rampaging in your house. You,yourself, are not invincible from it. Do not think otherwise.
The family flu struck our house this week. It was glorious and colourful.
It started with Ethan, and hit very suddenly. My husband was heading for a 4 day work function at a ski resort the next day. He made it an hour out of the city and headed home...he got hit with it. And then came Cameron and myself. I was in my glory thinking smugly how we had evaded the thing. I was even at the pharmacy and grocery store.... no, we don't need any extra juice, pepto, gravo.... I can just pick that up another time. the boys seem to be on the mend.
And then it found me in the wee hours of the morning. Suddenly and swiftly. oh how I needed that apple juice now....
nothing like your 5 year old screaming at you because you don't respond fast enough in making his morning strawberry milk. Apparantly, pouring the milk only, and running to bed to quit the nausea and dizziness is not allowed. Cam then got hit that same morning with the flu.
We were quite a family.
(It's slowly passing, taking a bit to regain strength. Just when you think you're better, it reminds you with a bit of nausea or fatigue that it's not quite over. but i did lose 4 pounds. is that wrong to celebrate?)
I've been inspired by this one image I found of a lego sticker pack. I thought it would make a great start to a lego quilt series. I've got a few sketeches that need to be worked out.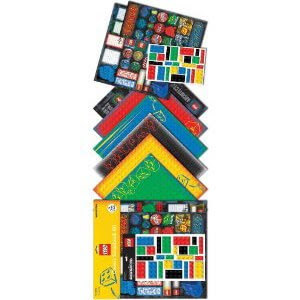 Also on my wall, I plunked
(really...plunked is a word)
up my bee blocks that I have received back so far from my group. I asked for rectangle in rectangle blocks using my Katie Jump Rope stash.
It should make for a pretty cool quilt when it's all ready to go. I wanted it to be a wall hanging for my sewing space. We'll see what happens.