I'm quite fascinated at how a wee change can affect tension on my APQS quilting machine.
Here is some experience I have gained with quilting tension. Little tiny adjustments make HUGE differences. On this quilt, I had two moments of 'railroad' tracks on my backing. See how the thread kind of sits on top of the fabric, a bit of looping, and the thread isn't sinking in?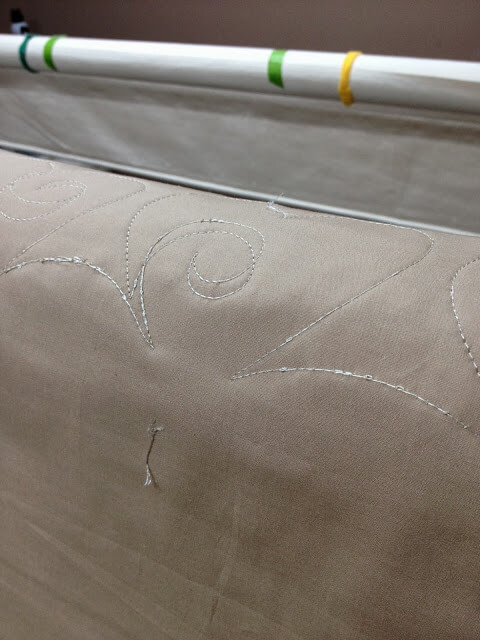 Here is one slight tweak that completely fixed the problem: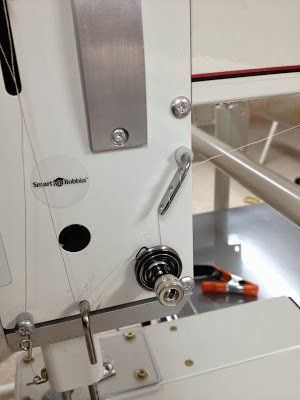 See the 3 hole thread guide just above the tension dial?
The position above is in the 7o'clock and 1 o'clock angle...this is how it should NOT look.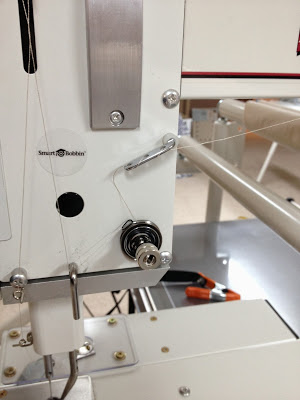 Here I tightened it back to 8 o'clock and 2 o'clock angle and the tension fixed itself. Just that slight tweak gives a little more tension on the thread.
check your machine manual for proper positioning - this positioning is for APQS machines
Another issue I came across which makes me laugh at how trivial it seems, but makes a world of difference.
When I use slippery thread (Glide, Magnifico, MasterQuilter, Aurifil Poly) it tends to spew off the cone faster than a cotton or a matte poly. (Do you like my term spew?)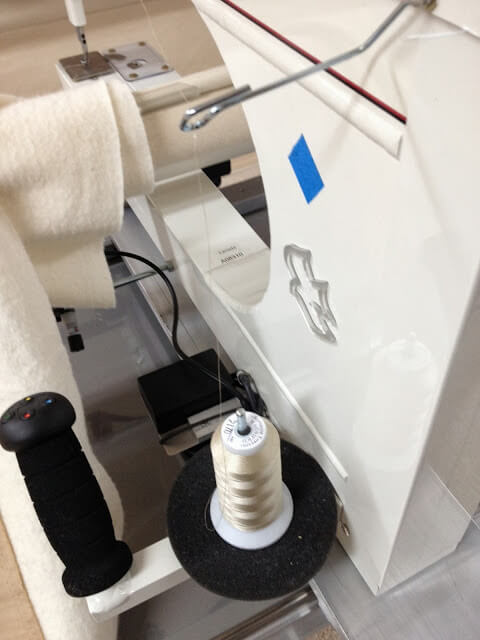 You can even see in the photo above, the thread just hanging there very loosely.
If you stick a tiny wad of bating in the thread guide (loosely, just so that the thread doesn't escape) so that it has a bit of friction when going through, the tension corrects itself.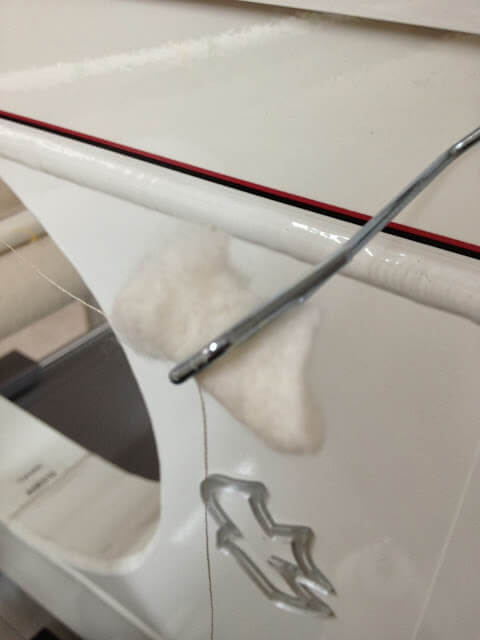 I figured this out when I ran out of bobbin thread, the top thread often breaks. Then, the wad of batting somehow pops out of the guide. Not paying attention to this minor detail, I continued quilting and got poor tension (railroad stitches on the backing) I realized the little wad was missing - popped it back in, and the tension was beautiful again.
Silly details, right?
Here are some things I've noted so far that affect tension:
-batik fabric
-quilt top or back too tight
-poor quality backing fabric
-slippery thread
-poorly wound bobbins
-needle that needs to be changed
-needle that is not quite in the right position
When I get the time, I'll blog more about some tension tips and tricks for the newbie machine quilter. Have a great day!