You know that saying - the cobblers children have no shoes? I'm the quilter who has no quilts. I give them all away or work on others' quilts. Until now. I finally made a quilt for my own bed. A king sized quilt.
It is SO BIG!
I wanted something neutral, simple and calm. I chose a variety of neutral fabrics in taupes, and greys.
I chose someone else's pattern this time - from
Carolina Patchwork
s - Sweet Garden (Emily Cier) .
I am not a happy pattern follower, and was grumbling a lot, but this pattern just seemed to suit what I wanted to do - and why reinvent the wheel? But of course I had to add new treads to the wheel. LOL I initially set out to adjust the pattern to be entirely a king. Pieced it all together, laid it out on my bed and my heart sank - it was just too busy. Too quilty. Too much patchwork for the mood I wanted in my room.
So I *GASP* hacked it up so it was a smaller bit of patchwork and added some calm, white fabric to the top and bottom. And then I quilted it - and got a little carried away.
I started with simple waving lines....
started to add swirls - I just marked the 'c' shape of where I wanted the big swirl placements. Then I started to fill in the shapes with fillers to show movement and flow.
This is how the top '1/3' of the quilt looks:
For the patchwork, I just did simple ribbon candy in the sashing. This gave the texture and allowed the squares to pop like little pillows. For the squares or rectangles larger than 4'' I quilted a line or two in the space to keep the batting and fabric stable. This is where I feel like a rule breaker. I know it should be consistent amount of quilting throughout. This is where I rebel and feel like I can't follow along. I WANT this added interest.
I mean, look at how the little pillows pop! This is my bed anyways....I will report and edit this post in the future if I find out it is a useless experiment. But I don't care. I love this look.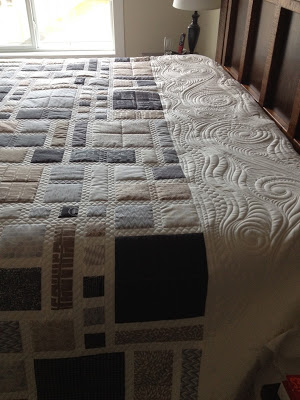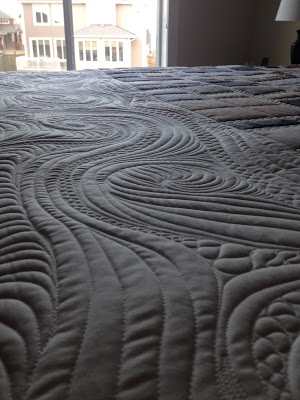 This was very free flowing quilting - all improvisation with me just knowing that I wanted it to look swirly, flowing and show moment - an ode to the beach, waters, etc.
My quilt has yet to be bound. It is still 'commando' without a binding. I will keep it plain white to keep the focus on the quilting and the colour palette.
I hope you like it! It's pretty breath taking on my bed. Now I'm too scared to use it. I am so super thrilled with how it turned out.
Pattern - Carolina Patchworks Sweet Garden by Emily Cier
Fabrics - assorted prints - too many ! Kona cotton in Snow
Thread - Glide thread in White, Wonderfil Decobob bobbin thread white
Battings - Hobbs heirloom 100% wool batting.
Hand guided quilting on my APQS machine.